Election Day - ALL Fields Open! - 11/4 - 10-28-14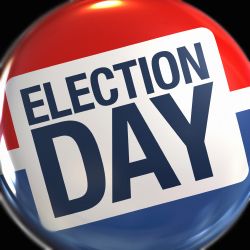 On Tuesday, November 3rd, ALL Cousins locations will be open (except Dallas) from 9-5 for public play. Admission will be at a discounted rate of $10 per player. If you would like a private field, please call or reserve online.
Win the ULTIMATE BT/Empire Package at Dark Ops! - 10-20-14
Win the ULTIMATE Dark Ops BT/Empire package! The rules are simple! The more tickets you have, the better your chances are of winning. Sign up before the first deadline, receive 4 complimentary raffles. By the third deadline, receive three; by the second, receive two; and by the final deadline, receive one. If you'd like to purchase additional raffles, you may do so when registering online OR the day of the event for $5 each.
First Deadline - by 10/24 - receive 4 raffles
Second Deadline - by 10/31 - receive 3 raffles
Third Deadline -
.....more
Columbus Day - ALL Fields Open! - 10-13-14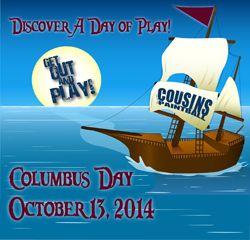 Discover a Day of Play!
In 1492 Columbus sailed the ocean blue. He discovered Cousins along the way, now's your chance to Get Out & Play!
Columbus Day
Monday, October 13th, $14.92 includes:
• All day general admission
• Rental Package of (mask, goggles & marker)
• Unlimited air fills
Riverhead, Staten Island, Manchester, and New Windsor will be open from 9-5.
Need Paint? No problem!
Purchase a bag
.....more
Cousins Dallas - Zombie Safari - 09-26-14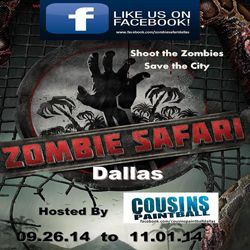 SHOOT LIVE ZOMBIES! Climb aboard one of our Zombie Response Vehicles and help us blast the walking dead with our special 50 caliber markers! Only available at our Dallas facility! Click the image above to register!
Memorial Day Special - 5/26 - 05-08-14
On Monday, May 26th, ALL Cousins locations will be open for Memorial Day and it will be FREE admission on the public field! Open from 9-5.